I2MTC 2015 will be held in Pisa, Italy at the Palazzo dei Congressi di Pisa. 
Hotels that are available for I2MTC 2015 are listed below and are shown on the map below. 
Space is limited so please book your room(s) as soon as possible. Room rates/availability cannot be guaranteed after March 2015. Please contact the hotel directly for information on I2MTC special rates and to reserve your room(s). 
Please also note that Pisa is a touristic town and it is advisable for attendees to reserve their hotel rooms well in advance.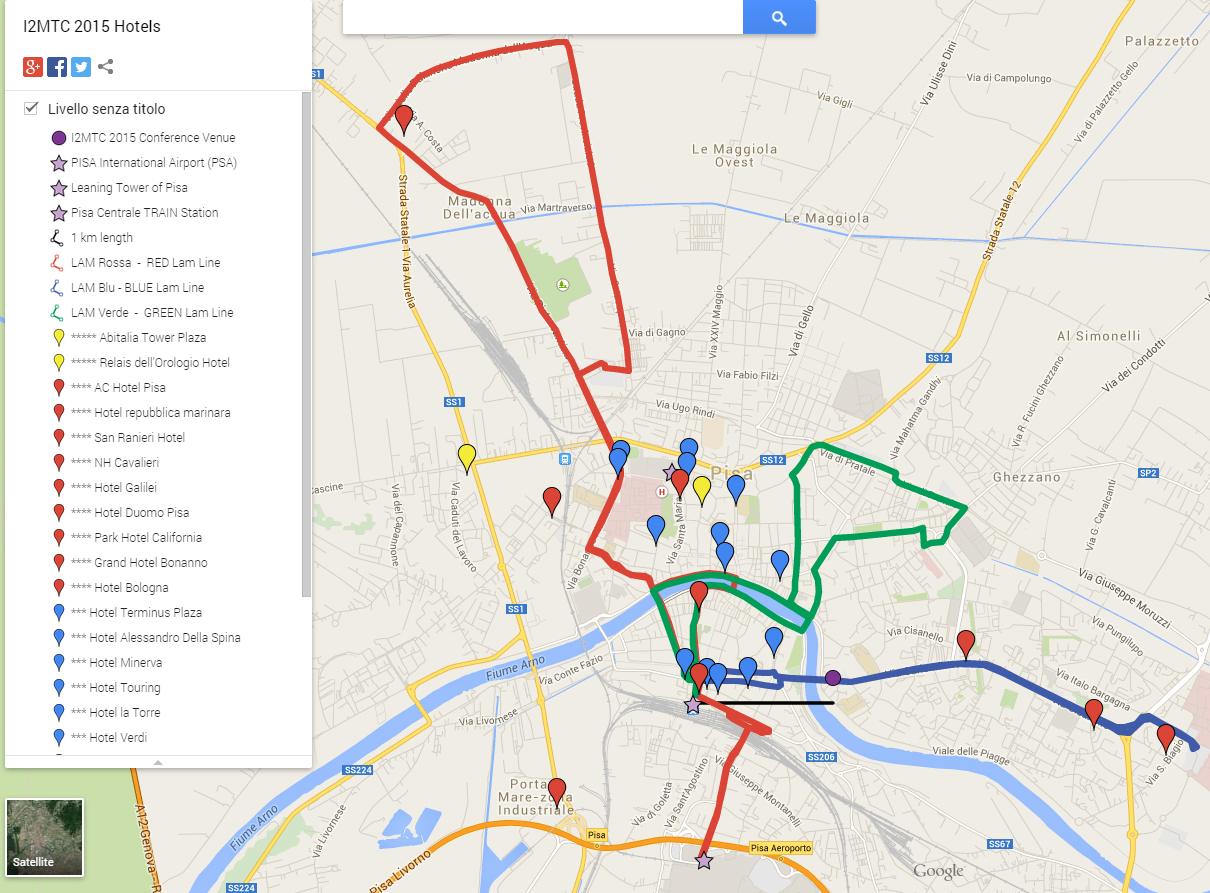 ---
Hotels
The distance listed indicates how far the hotel is from the conference location: Palazzo dei Congressi, Via Giacomo Matteotti, 1, 56124 Pisa PI, Italia.
4/5 Star Hotels
3 Star Hotels
1.**** Hotel Repubblica Marinara
www.hotelrepubblicamarinara.it
0.85 km, 11 minutes by walking *
1.***Hotel Minerva
www.hotelminervapisa.it
0.6 km, 8 minutes by walking
2.**** NH Cavalieri
www.nh-hotels.it
1.2 km, 17 minutes by walking
2.*** Hotel Alessandro Della Spina
www.hoteldellaspina.it
0.8 km, 10 minutes by walking
3.**** Hotel Bologna
www.hotelbologna.pisa.it
1.5 km, 20 minutes by walking
3.*** Hotel Terminus Plaza
www.terminusplaza.it
1 km, 15 minutes by walking
4.***** Relais dell'Orologio Hotel
www.hotelrelaisorologio.com
1.8 km, 26 minutes by walking
4.*** Hotel Verdi
 www.verdihotel.it
1 km, 15 minutes by walking
5.**** AC Hotel Pisa
www.marriott.com
1.9 km, 27 minutes by walking
5.*** Hotel Touring
www.hoteltouringpisa.it
1.1 km, 16 minutes by walking
6.**** Hotel Duomo Pisa
www.grandhotelduomo.it
2 km, 30 minutes by walking
6.*** Hotel la Torre
www.hotellatorre.pisa.it
1.2 km, 17 minutes by walking
7.**** San Ranieri Hotel
www.sanranierihotel.com
2.5 km, 37 minutes by walking
7.*** Royal Victoria Hotel
royalvictoria.it
1.5 km, 20 minutes by walking
8.**** Grand Hotel Bonanno
www.grandhotelbonanno.it
2.7 km, 40 minutes by walking
8.*** Hotel Leonardo
www.hotelleonardopisa.it
1.5 km, 20 minutes by walking
9.**** Hotel Galilei
www.hotelgalileipisa.it
3.1 km
9.*** Hotel di Stefano
www.hoteldistefano.it
1.7 km, 25 minutes by walking
10.***** Abitalia Tower Plaza
www.abitaliatowerplaza.it
3.9 km
10.*** Hotel Novecento
www.hotelnovecento.pisa.it
1.8 km, 26 minutes by walking
11.**** Park Hotel California
www.parkhotelcalifornia.it
6.8 km
11.*** Hotel Villa Kinzica
www.hotelvillakinzica.com
2 km, 30 minutes by walking
 
12.*** Hotel Ariston
www.hotelariston.pisa.it
2.2 km, 33 minutes by walking
 
13.*** Hotel Roma
www.hotelroma.pisa.it
2.5 km, 37 minutes by walking
 

14.*** Hotel Giardino Tower INN
www.hotelilgiardino.pisa.it
2.5 km, 37 minutes by walking